Website Designs That Grow Nashville Businesses
When it comes to getting your company online, website design services are just part of the equation. There are many benefits that come with getting a new website.
First and foremost, having a website provides an opportunity to get your company online and make it easier for potential customers to identify you. Our approach to web design provides quality content and professional brand looks and feel on your site. This makes sure that people interested in what you have to offer will stay on the site long enough to find out more about you and even become a customer. It also ensures that search engines will be able to crawl and index your site so that anyone who uses Google or another search engine can see it when they look for sites that offer similar products or services like yours.
This means putting some effort into making sure that your content is not only well-written but compelling enough to stand out from the millions of other sites that exist today. After all, it's a matter of first impression, and you only get one shot to make an excellent first impression with your potential customers.
If you want your business to be successful online, it needs to start with a new site that has the latest design templates as per industry standards. Our web design team will provide attractive website design and content creation services for a highly effective web marketing for your business. 
Call us today to get the best Social Media services from the leading
SEO Agency: 844-234 324.
Upgrade to One of Our Beautiful Designs for Your
Roofing Services Website

Roofers WordPress Theme-1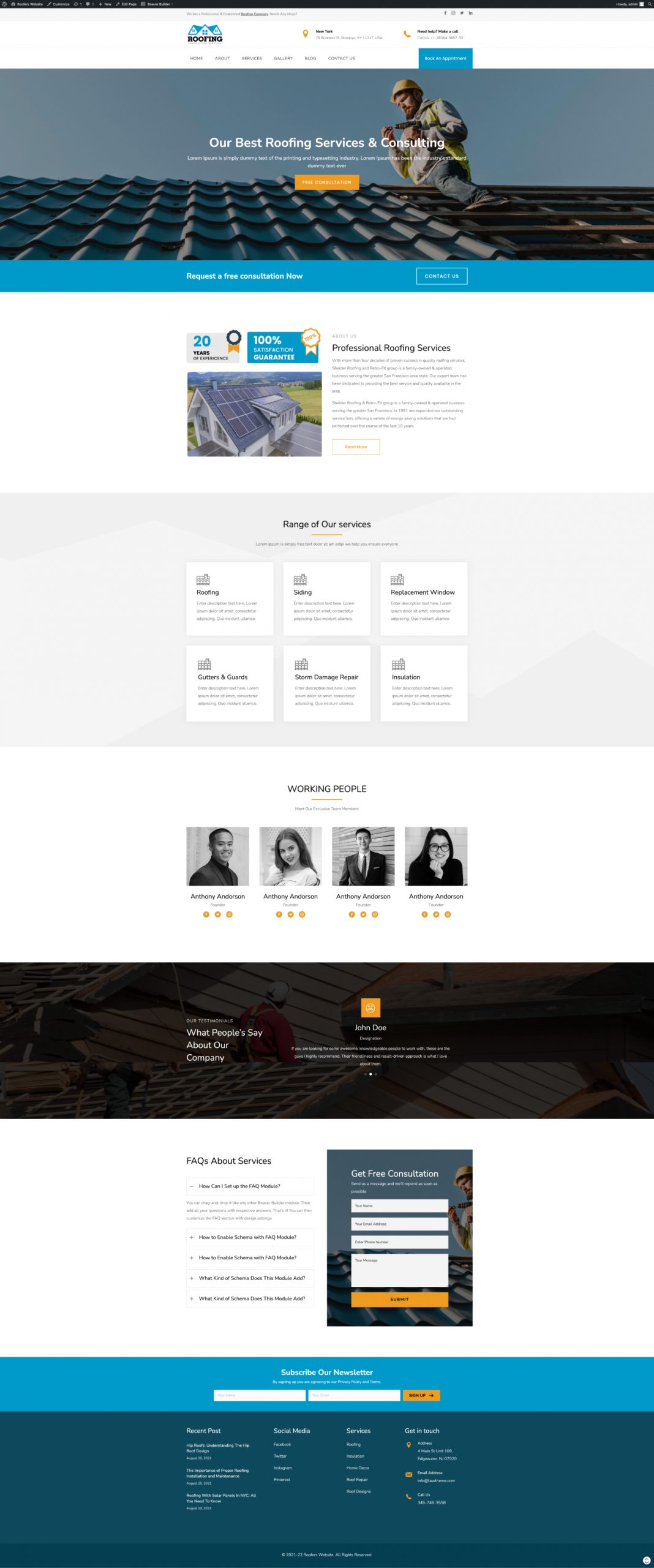 Roofers WordPress Theme-2

Roofers WordPress Theme-3
Creating the Right Design!
Having a solid web presence is all about standing out from the crowd. When it comes to marketing your products on the internet, there's no better way than building an effective site that people will love! Exciting sites are fun to browse through, so you can expect great things regarding recommendations and word of mouth.
Quality web design is about creating an experience for your visitors, so they'll want to return again and again. Today's audiences are very demanding when it comes to quality content, which means that you need a creative team on your side if you want the best results possible. Our company offers Nashville web design services to craft a site that will turn customers into loyal fans.
The entire idea behind having a site is to drive traffic – and more traffic means increased sales opportunities and more visibility online. While we can't promise instant results (since there are many factors involved), our developers will work hard to design an attractive site that draws people in through social media campaigns, Search engine optimization, or regular reviews.